Have you heard about our Owner-Operator program?
Our Owner-Operator program is designed to give you the opportunity to make your own way, to run your own staffing agency, and generate unlimited earnings. The Owner-Operator program enables you to operate your staffing and recruiting agency in a specific territory within the United States.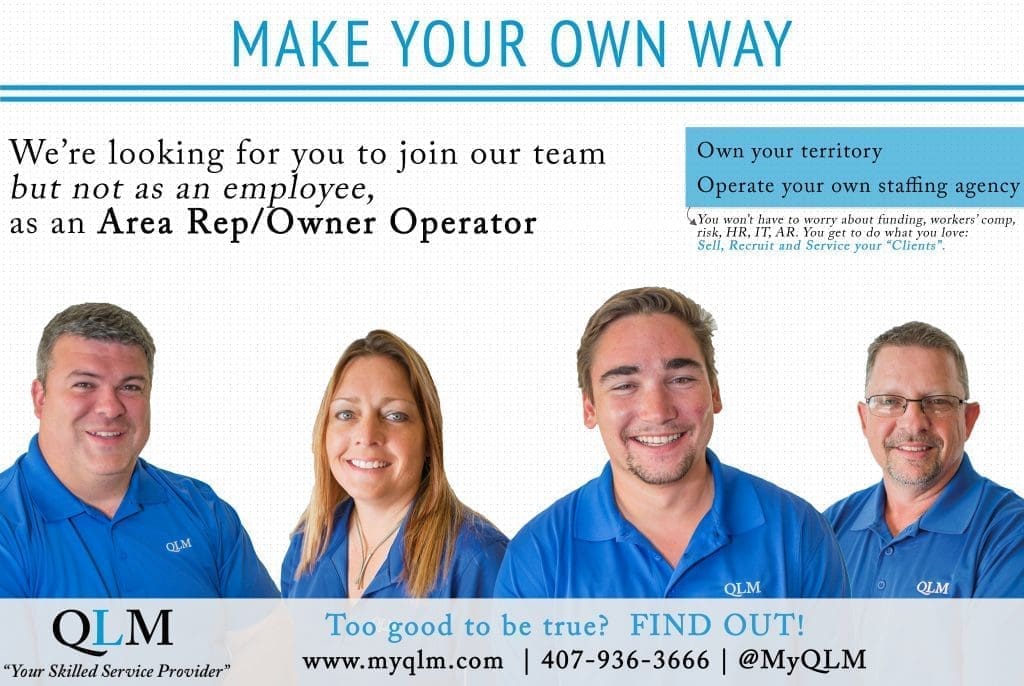 We alleviate the biggest intimidations of opening a new business by providing the funding, tools, and industry expertise to support the program and a successful future. We eliminate the backhouse minutia so you can focus on sales, servicing your clients, and recruiting the right team members for the job.
QLM offers you support and training in setting up an employment agency. Candidates in this program will be trained on how to set up their local office, how to prospect for clients, how to screen employment applicants and will receive thorough training in each of the various industries QLM offers employment.
"Our philosophy is to educate our team members and clients that safety, productivity, and quality of work are what makes us number one in hiring and sending applicants out on a job. Without these three elements, we lose our competitive edge. Each team member is aware that providing safe, productive and quality work is essential to remaining a team member of QLM" says Lang.
QLM is headquartered in Sanford, Florida and is a skilled service provider for temporary and permanent employment in the following industries: construction, solar, light industrial, stevedoring, and professional services.
This is an incredible opportunity that changes lives, but don't take our word for it, click the video and you can hear it from our Owner-Operators: https://youtu.be/5X7HukNbdN0
If you have always wanted to own your staffing company and the opportunity to work with some of the most experienced people in the industry, reach out to us! https://myqlm.com/owner-operator-opportunity-program/