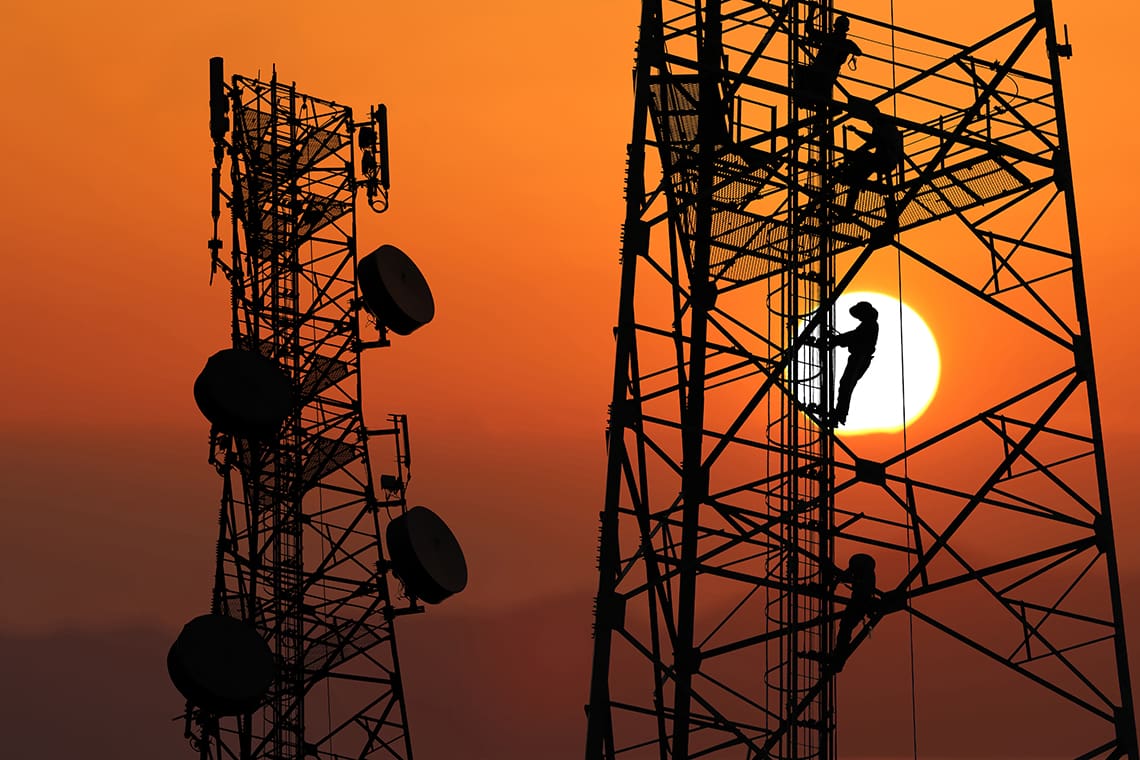 QLM Telecommunications is a veteran-focused division that serves the Cell Tower industry—currently led by Chad Borek, QLM Indianapolis Owner-Operator.
Chad's Story.
My name is Chad Borek, and I am the owner of Quality Labor Management Indianapolis, a Veteran-owned business, specializing in the telecommunications industry. My story dates back to 2004-2008 when I served in the United States Navy based out of San Diego, California. During my four years of service, I was deployed three times. Two of my deployments dealt with counter-narcotics interdiction off the coast of South America and Panama, and one deployment took me throughout the South Pacific, including Indonesia, the Marshall Islands, and Hong Kong Harbor. My job in the Navy dealt with navigation, where I learned a lot about charting maps, plotting courses, understanding weather patterns, and swells, as well as gaining knowledge about celestial navigation. One of my other job duties aboard the ship, and it was always one of my favorite jobs, was doing preventative maintenance on top of our ship's mast at 240 feet whenever we were in port. There, on top of that mast, I had the most amazing views throughout the South Pacific and loved it.
When I got out of the Navy in 2008, I didn't think to be able to navigate by the stars, or climbing a ship's mast were skills sets that I could transfer to the civilian world. Like a lot of fellow Veterans, I struggled for a few years, trying to find my place in the civilian workforce.
Fortunately, I ended up finding opportunities along the way and worked my way up the corporate ladder in construction staffing before starting my own business in 2018.
I realized that those skillsets I had learned in the Navy, such as climbing my ship's mast, could be transferred over to the cell tower industry, and my dream job did exist. I didn't find out about it until eight years later.
My mission now as a Business Owner is twofold. I am a consultant for those I partner with, sharing with them the benefits of growing their workforce by hiring Veterans who bring high-level skill sets, experience, and leadership to the job.
My other mission is to provide mentorship and assistance to fellow Veterans by connecting the skills they gained in the military to employment, such as those in the cell tower industry, to help ease their transition back into the private sector.
Partner with QLM Telecommunications
I take a very hands-on approach with my business partners and the veterans I hire. When you partner with me, you can rest assured that I am not just sending you a resume, but am actively involved in all aspects of the recruitment process. I am an Authorized Climber/Rescuer myself, and I interview each candidate that I send out to ensure they are a good fit for that client's needs. I often assist the companies I partner with, in the training of my new hires to help ease that workload in any way I can. My goal is to help you grow and build your workforce from the ground up with the Veterans on my payroll, who will give you a working resume before assuming any of the risks yourself. All new hires will have a drug test, a national background check, and OSHA 10 certification. For more information, please reach out to me personally at cborek@myqlm.com or 619-955-0111.
I look forward to partnering with more companies who share our mission of helping Veterans find post-military careers in the cell tower industry.
A sneak peek at our Team Members in action!